Special attention should be paid to the event entrance gate and the announcement of the event since welcoming guests contributes so much to the event's success. Bright flyers handed out on roller skates, attendants quickly moving and maneuvering with balloons, and branded gifts are all great ideas! They cause smiles and catch the interest of passersby.
Reasons to start at the entrance
Your entrance is the first thing attendees see when they get started at your event. They have an opportunity to get a feel of the tone for what is ahead. It can create a wow effect from the very beginning of the event. Entrances offer a chance for transformation and immersion that shows guests you mean business and can even enhance attendee's opinions on what is inside. Making an event entrance is the first step on an attendee's journey, so make a good first impression through the use of your event entrance ideas.
Ways to make an impact at your event entrance
The implementation and maintenance of common outdoor event entrance ideas and concepts will make the event complete. Ideas can be neutral or daring. There are some ways to go with:
Welcome staff
Attractive staff in branded uniforms with funny items on their heads can allure and invite the passersby. Staff with balloons for children or face painting may attract those who want to get bright, positive photos. Helpful and very enjoyable staff offering a drawing for prizes will work as well.
Swag bags
Booklets, brochures, bookmarks, bags with logos, branded pens and notepads— all of this can be useful for your guests. In those cases when participants should write down something, you will provide them with what they need. 
Tunnels
Creating a tunnel is a great way to "transport" your attendees from one state of mind to another. For children, there may be animators working on specially designed entertainment program tunnels or corners. The first discovery and the first positive impressions are guaranteed.
Light displays
From concept to deployment, this market offers a wide array of services in commercial displays as well as theater, event, and residential lighting for the best entrance impressions. Take advantage of them.
Technology
Include all your information in the newsletters, your posts on the event page on social networks, or on the organisation's website. Place a QR code in different parts of the hall so attendees will be able to get all the data they need. Use RFID tags and other event technologies as well.
Sponsorship
This is a great way to attract attention. Sponsoring something (or someone) is the act of supporting an event, activity, or person. While sponsorship can deliver increased awareness, brand building, and the propensity to purchase, it is different from advertising. 
Decorations
Apply new decoration techniques to attract customers. There may be a life-size doll in the form of a hero, a huge inflatable slide and a trampoline, or three polar bears (not real ones, of course). There may be logo-bearers, mimes, photo-zones, puppets, robots, and so much more.
The top 10 event entrance ideas
Discover more ideas for the entrance, event gate, or entryway on an event. To succeed, learn how to promote an event venue with entrances and exits.
The Hollywood theme
A Hollywood theme party includes a red carpet entrance. A themed party à la Hollywood will add an extra luxurious image for your event organisation.
The Bollywood style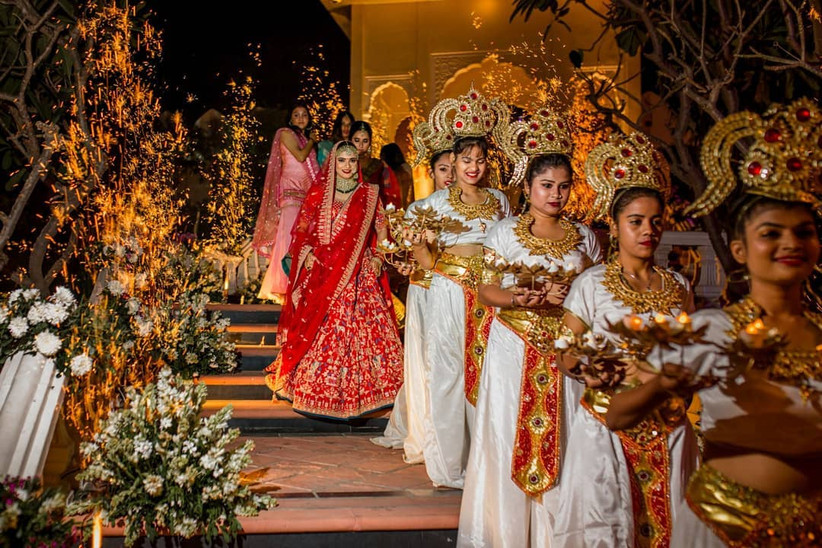 Like Hollywood, this theme is even more attractive and talked about. In India, most people go with their families to watch movies. Provide more ideas about Indian outfits, Punjabi suits, and so on.
Geometric elements
A geometric element is an element in space (plane, line, point, or a combination of these) about which a symmetry operation is performed. Use them for party entrance ideas.
Peephole
A peephole, peek hole, spyhole, door hole, or door viewer is a small opening through a door that allows an individual to look from the inside to the outside. What can be more attractive?
Starlit tunnel
Take advantage of an Interactive Starlit 3D Time Tunnel or dance floor. Use all of this to allure your visitors.
Corporate tenting
Award-winning corporate events and spectacular corporate tent rentals will wow your employees, fundraisers, and sponsors, so make sure to include corporate tents.
Exclusive photo/lazer ops
Offer your visitors the opportunity to take exclusive photos and use other photo offers and to participate in competitions and entertainment news. Let them take home some magical memories with a photo.
Modern registration
Use a modern online registration concept. Allow online platform check-in and other automated registration options. 
Winged installation
Winged relies on people's curiosity to reveal itself. It is one of the most incredible event entrance decorations. Your entrance will be decorated with an easy-to-follow installation.
GOBO runway
Apollo metal gobos are great entrance design ideas made from a stainless steel with high quantity of nickel and chromium that provide longer life and image quality.
Bad ideas that should not be implemented
There are also inappropriate event entrance designs you shouldn't apply at your even, or you will risk deterring you attendees from what could be the most interesting events. Whether it's for a dance floor, an event entrance way, or the main hall, do not start with showing only your sponsors' attributes. Your visitors won't understand whose event it is. 
Do not make the music too loud at the entrance. It's irritating. Forget about out-of-date décor materials or eco-unfriendly tissues, tasteless colours, and decoration items that have no functional meaning for the guests. Do not install tunnels that have something to distract the guests from the major event focus or lead them to feel claustrophobic. The first thing seen before entering an event is the entrance; make an event entrance visible but not deterring. Also, keep in mind the logistics to make it easier to enter. GlobalSign.in will be your perfect automated online assistant. 
Call to action
Contact the experts in designing awesome entrances that will captivate your audience and deliver on your event goals. 
Conclusion
The decoration of an entrance is an indispensable tool for attracting guests and supporters, mobilising financial resources, and assessing the success of the event. Incredible hall entrance ideas can also be used for current events as a strategy for their long-term implementation in the next three to five years.
For more creative ideas, give us a call.