Do you need to organise business events, meetings and conferences? Do you need to sell several thousand tickets and provide convenient payment options for your attendees? On the day of the event, will you need to register hundred people every minute, but your company simply doesn't have enough hands to carry out this procedure? A reliable event registration management system is what you need!
About event registration
Online registration is an easy way to help the audience get to your event by registering, purchasing tickets through one of your many available payment channels, and receiving prompt access to the event.
The registration process consists of two parts: online registration and onsite check-in. They are closely related, and accurately integrating them simplifies the crowd flow by minimising crowds during the event. This is very important for every event; to avoid queues, provide flawless and high-speed check-in as this will guarantee the best event experience and positive reactions from the event attendees.
For organisers, the event management registration process is an opportunity to add questionnaire modules to the site, register participants, pre-print badges, sell electronic tickets, and access an analysis of statistics, not to mention the fact that an online events registration platform can significantly reduce event costs. So get real help from an event organisation company to organise and control entries for your events.
Common principles for successful event registration
The company should provide a full range of services for the accreditation of participants at events. It provides a rental system for the online registration of participants as well as all the necessary equipment, from laptops, printers, and barcode scanners to badges with RFID tags for short- and long-range communication, technical and promotional staff, and so much more. As you can see, successful registration and event management processes can be quite complex!
Learn more about event registration and ticketing best practices to ensure that your event or conference attendees have a seamless experience with the help of event solution software that facilitates the organisation and conduct of registration in stages: pre-event, onsite, post-event, etc.
Event registration management
Thanks to the very inventive, creative, and slightly lazy event organisation experts who didn't want to bother themselves with unnecessary manual work, you can now significantly simplify the process of event registration management. These experts simply came up with a service that became an assistant for many event managers—all-in-one online registration!
Event registration software requirements
The key requirements for the best event registration software can be defined by answering a few popular user questions:
How do I register the software?
What are the best event planning software features?
How much does it cost, and is there any post-purchase support?
By answering these questions, you will be able to define the best software for each event organisation and management case. Thus, a perfect online event registration management solution will be affordable, delivering easy and clear registration terms, useful features, and helpful support.
5 event registration approaches
GEVME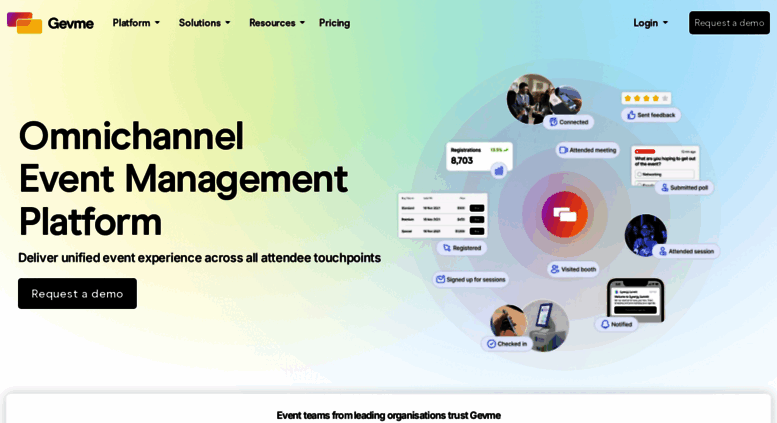 About
GEVME is an enterprise, cloud-based event management and event organisation software.  Presently, GEVME offers fully integrated solutions based on their three subscription plans—Starter, Pro, and Enterprise—each of which boasts key advantages:
Starter Plan: Provides affordable and flexible basic options to start your event without the need for special skills or experience
Pro Plan: Provides advanced features with priority support to extend and master large-scale events
Enterprise Plan: Provides the best adjusted features for large teams as well as advanced security and compliance solutions, etc.
For whom
GEVME is suitable for companies of all sizes. It is made for event agencies and corporate event planners who organise a series of small events as well as large events with more than 50,000 attendees per event.
Advantages
This allows you to set your marketing budget, allocate it according to the goals set, and implement your event strategy, etc. With GEVME, you can go through the different stages of event management with everything you need in one place. 
Disadvantages
The starting price is not provided by the vendor on the website, so you have to contact the team directly to calculate your individual pricing.
        2.Judgify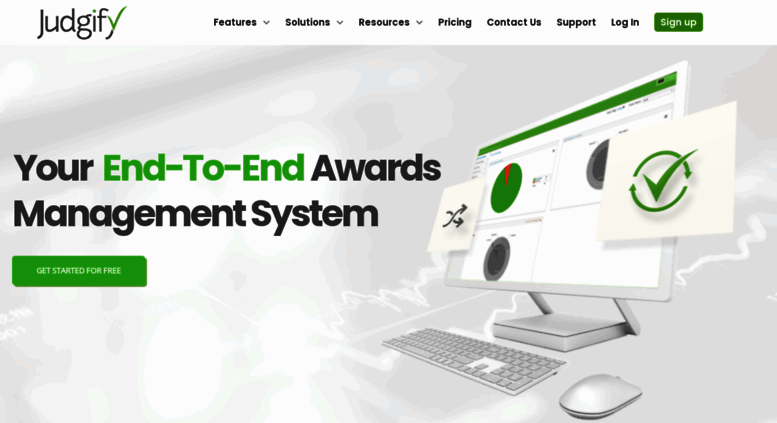 About
Judgify is a cloud-based and mobile-ready online judging system and awards management software that is designed to empower contest organisers to set up awards ceremonies and competitions with ease.
For whom
Contest organisers of any contest type, scale, and theme can benefit from this user-friendly contest platform.
Advantages
It has affordable prices and all the features necessary to transform the management of an awards event into simple, transparent, and credible processes. Judgify offers a free plan for small free contests and awards.
Disadvantages
There are no modules for sweepstakes and social promotions
.
         3.Event Farm
About
Event Farm is an event registration management software program and event marketing platform that specialises in using experiential technology.
For whom
This is for planners who are eager to enhance interactivity.
Advantages
It offers a highly customisable and brand-focused invitation, and registration experiences are strong points of the service.
Disadvantages
You can only discover the pricing of certain packages by contacting the manager.
        4. Evite
About
Evite is the leading online text invitation service for your most memorable events. It is also anexcellent software for free online invitations, premium cards, and party ideas.
For whom
This is for event planners and event idea and content creators.
Advantages
Email invitations

Custom branding

Pre-made design templates, etc.
It also lets you customise invitations without ads or Evite branding.
Disadvantages
If all you need is an invitation and RSVP system, Evite's free version will do. The ad-supported option has a limit of only 750 invitations but a large selection of designs.
          5. Open Source Event Manager
About
This is another event registration and management tool that can do everything from registering to event management of guests. It is also an event management tool that is tailored for free and open source community conferences, etc.
For whom
This is useful for event planners and organisers as well as open source users.
Advantages
Attendees can use OSEM to register and submit proposals, while planners can track registration, venue information, and sponsorship in the administrator dashboard. The key features include session management, registration, event schedule and data management, and custom branding.
Disadvantages
Since the source is open, it has no professional service package or individual solutions.
How to make your choice
Of course, it's up to you which option you choose, and there are many useful management tools for event planners that are worth your attention. But how do you pick the right ones? While choosing online awards management software, pay attention to the following:
Registration process in event management

Creating,/ storing, and editing scripts; managing test plans; launching test categories; recording voting results; etc.

A clear description of scenarios, their review, correlation with the requirements, and division into areas—all of this allows us to evaluate both the completeness of the jury and the necessary materials for the entire event team.

Generate reports on completely different category criteria: summary, comparison for cases, and other results for events, components, milestones, etc.

Opportunities for complete customisation of the working dashboard, printing flyers, offsite/onsite check-in, its speed, and so on

Easy integration with mobile devices

Reasonable prices or free trial availability

Great support

An easy and convenient way to import from and into Excel, etc.
How to improve your event registration process
If you want to improve your event registration process, here are some steps to take in order to simplify event registration and improve attendee experience:
Create the experience
Keep the registration page on your main event site, and provide nice registration forms and all the necessary information to maintain a flawless event registration experience.
Simplify your registration process
Short and sweet is the best. The registration process should take no more than five minutes of your registrants' time and should be crystal clear in terms of usability.
Use registration software
Use software that is perfect for rapid online registration and onsite check in. Choose solutions that are simple, universal, and appropriate for your event's needs.
Allow attendees to register as a group
Provide group registration options that will allow attendees to register as a group.
Get people engaged and excited
Offer gamification options, beautiful templates, and marketing solutions for people to get involved and stay on the platform.
Offer multiple payment options
Finally, to finish up your event registration process, offer multiple ways to easily pay.
Conclusion
Tasks are becoming more complex, and new technologies are born every day. If we are talking about the flourishing virtual and remote event management industries, there are certainly plenty of top-notch event planning tools to choose from. Stay in touch with us to remain up to date, research what the event registration process is, and learn how it can be better.
Feel free to leave your own registration software suggestions in the comments below!