SFF x SWITCH 2019
Overall event experience for 60 000 attendees
About
Introducing
SFF x SWITCH 2019 was a first-of-its-kind collaboration between Singapore FinTech Festival (SFF) and the Singapore Week of Innovation and Technology (SWITCH). It brought more than 60,000 participants from 140 countries. The event saw a record 569 speakers, close to 1,000 exhibitors and 41 international pavilions.

The inaugural event was organised by Monetary Authority of Singapore (MAS), The Association of Banks in Singapore, National Research Foundation Singapore (NRF) and Enterprise Singapore (ESG), IPI Singapore, in collaboration with the SingEx Group.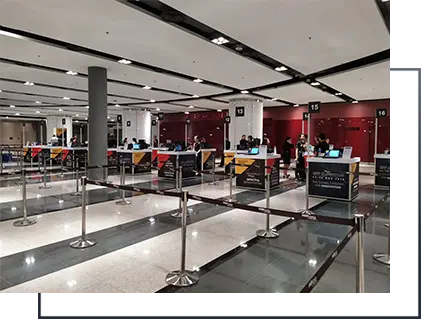 Goals
Enhance the overall event experience for more than 60,000 attendees
- Provide seamless online and onsite solutions for a prominent large-scale event,
- Track and analyse attendees during the event to improve the attendee experience
- Empower exhibitors to maximise event ROI and generate more leads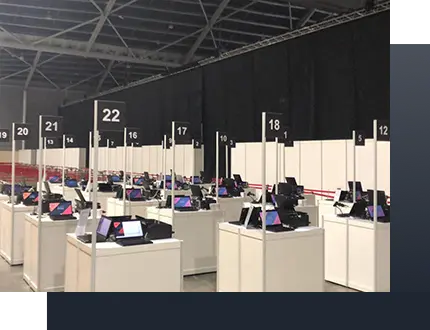 Solution
The suite of integrated event tech solutions to ensure a valuable event experience
We provided flawless online and onsite solutions, established an advanced onsite setup to assure a smooth registration for 60 000 attendees. With the help of a real-time dashboard, event organisers were able to see the stats of registered attendees right away.

We launched a new suite of lead retrieval apps to empower exhibitors to drive exhibition ROI. The use of apps was a proof of organisers' commitment to sustainability and partly allowed to reduce paper waste by eliminating printed brochures and business card, replacing them with digital content.
Results
Enhanced event experience for more than 60,000 attendees
"It was a pleasure working with the GlobalSign.in team for the fourth consecutive year. Thanks to their constant support, we've been able to manage 60,000 attendee registrations over the span of three days smoothly. We had the opportunity to be an early adopter of their new suite of solutions to enhance the overall attendee experience. Our commitment to sustainability through the use of MYXP - a digital content curation platform is evident at the event"

-- Tim Wee,
Deputy Director, Technology Operations,
Digital and Technology Office,
SingEx Holdings.


140
countries from around the world
45%
of the attendees checked in on
Day 1
165+
exhibitors maximised event ROI through using our lead generation apps