IIMPACT 2016
Personalized Ticketing and Robust Check-in
About
Introducing
The event, that set the pursuit of happiness as its essential objective, was hosted by the Pan-IIM Alumni Singapore at the Marina Bay Sands in 2016. IIMPACT 2016 leveraged the concept of "RE" in the context of reimagining personal life and success through technology, societal impact, and professional growth.
Goals
Set up a frictionless check-in system for 1400 registered attendees.
IIMPACT 2016 was a large-scale event that required the automated processing of check-ins for several attendee categories. Due to the complexity of the event, the organizers were looking for integrated attendance management solutions that could help attain the following goals:
- Ensure targeted communication with each attendee group online
- Accommodate different ticket types for 8 types of attendee groups
- Set up check-in booth systems that would prevent queues
- Facilitate flexible, on-demand name badge printing onsite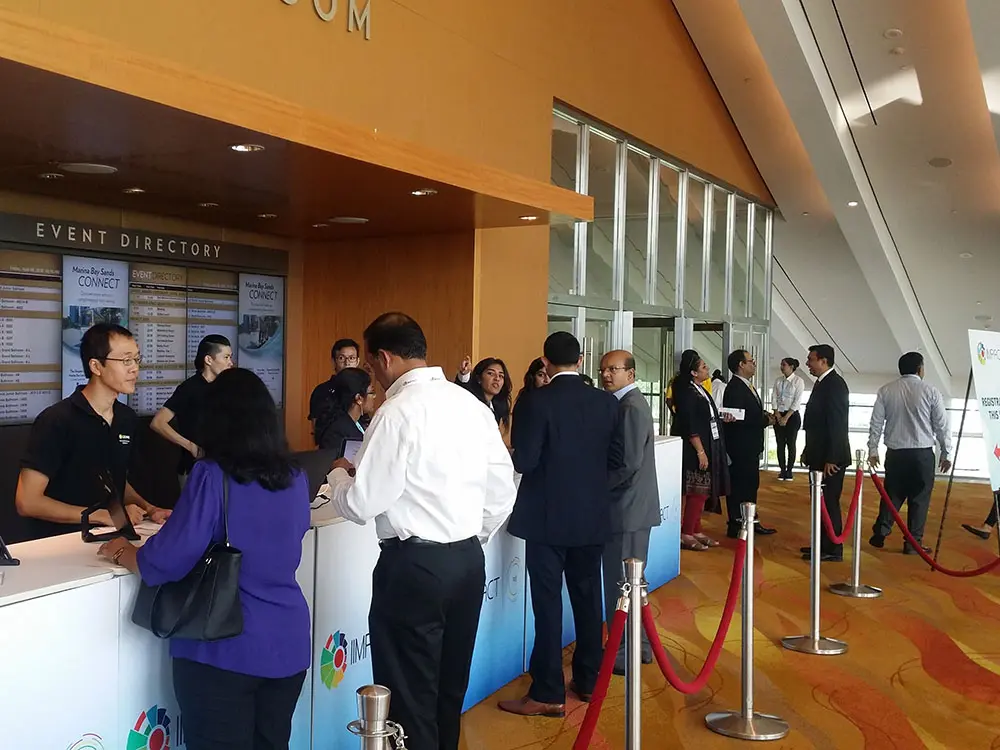 Solution
Full-scale customization of online communication through smart lists, onsite check-in setups, and name badge printing.
To ensure smooth attendance experiences for 1400 registered attendees, GEVME Registration and Onsite solutions were used. With the support of these services, IIMPACT 2016 event organizers received flexibile terms for custom registration form building, personalized check-in setups that allowed both automated self check-in and manual modes, as well as facilities for on-demand,onsite name badge printing.
Results
24 different ticket types and queue-free check-in for 1400 registered attendees
With the support of the GEVME team, IIMPACT 2016 avoided impossibly long queues. As the result of using flexible registration and onsite services, the event planners established an effective, targeted communication with every group of attendees through smart lists, created 7 personalized check-in setups with the help of network diagrams and two flexible registration streams, plus met name badge printing requirements.



24
custom ticket types to match multiple pricing levels and attendee groups
1400
attendees checked-in through self and manual check-in systems
3
manual check-in counters